X-Series – X-20, X-30, X-50, X-60, X-80S AND BLADES
Comprehensive Security for Any Data Center Environment
The X-Series Platform provides the following benefits:
A simplified and consolidated data center security solution – eliminating the need for many supporting switches and load balancers.
An integrated data center environment – enhancing private cloud deployments with its dynamic, resilient and virtualized capabilities.
Maximized service uptime – within established and evolving data center environments.
In today's digital world, the performance of your business is tied to the overall performance of your Data Center. You need to minimize risks to this critical environment to ensure optimal ongoing operations. The challenge is deploying security that can adapt and scale to meet your data center's specific requirements, without escalating costs, degrading network performance or impacting service availability.
The Blue Coat X-Series helps you optimize your demanding data center environments, delivering comprehensive security that can increase overall uptime, while reducing ongoing operational expenses. The X-Series is a family of open, integrated security platforms that help you mitigate risks, reduce costs and improve the performance and availability of your Data Center.
The X-Series Difference
The X-Series platform simplifies the deployment of multiple security applications into a single integrated system within the data center. The secret to the X-Series platform is that it's actually a virtual infrastructure or "network-in-a-box" capable of adapting to the changing demands and performance of your data center environment. With the X-Series, you can consolidate the network infrastructure and appliances needed to support your security applications.
The platform is made up of five key components, which all work together to create an open, adaptable, integrated security platform:
Carrier grade chassis
Network Processor Module (NPM)
Application Processor Module (APM)
Control Processor Module (CPM)
X-Series Operating System (XOS)
X-Series Operating System
The innovative X-Series Operating System (XOS) allows multiple best-of-breed applications to live on the same platform and work together seamlessly, with the ability to centralize control and visibility over the entire system. With XOS, a Virtual Infrastructure is created, empowering you to move, add and change security applications within minutes, without fear of disruption or downtime. This is why XOS is relied on by some of the largest banks, service providers, mobile operators, schools and governments around the world.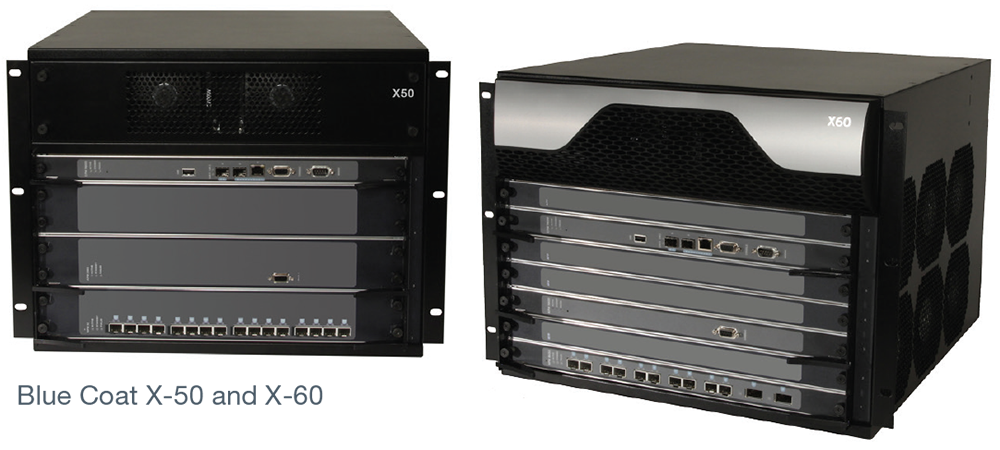 X-Series Modules
The X-Series network, application and control processor modules provide you with broad functionality:
Network Processor Modules (NPM) - providing the switching fabric, switching functions, physical interfaces and load balancing capabilities you need to consolidate networking gear and drastically reduce overall IT installation and configuration times. Using innovative Blue Coat technology, networked data can be dynamically sent to individual processor cores and traffic flows can be re-allocated, on-demand to maximize system performance.
Application Processor Modules (APM) – delivering the horsepower needed to run and manage the performance of all the applications on the X-Series platform. Each APM can run one application in a "Virtual Application Processor" (VAP); you can decide to combine APMs together into a VAP Group. The more APMs deployed, the more processing power is available to scale your security applications. Blue Coat utilizes the latest Intel processors, which enable any X86-compatible application to run very quickly and efficiently, with low power consumption, on the platform.
Control Processor Modules (CPM) – acting as the "brains" of the X-Series platform, continuously managing and monitoring the platform's health and overall status. It stores the application information, as well as the system and network configurations of the overall platform. It can "self-heal" the chassis, by re-provisioning modules, on demand and as needed.
Scale Security within Your Data Center
The X-Series delivers the capabilities of a fully-functional security gateway, with the flexibility to modify security services, ondemand, to effectively address changes in your environment and the security landscape. The X-Series enables you to quickly and easily add processing modules to achieve true linear scalability of your security that can meet the escalating needs of your most demanding data center, perimeter and private cloud deployments. The intelligent platform can also adapt to address real-time changes in traffic flow to accommodate momentary spikes or dips in performance.
Reduce the Costs of Your Data Center
The dynamic, virtualized capabilities of the X-Series enables it to easily integrate with your existing data center and perimeter topology deployments, as well as your private cloud deployments. With the X-Series, you can simplify your data center security deployment by consolidating numerous devices in the network. This results in fewer devices to manage, a smaller footprint in the data center and, of course, a lower cost of ownership.
Improve the Performance of Your Data Center
The X-Series is specifically designed to maximize network and service uptime within your increasingly demanding data center environments. Intelligent traffic management and critical system monitoring capabilities enable the identification and remediation of potential issues for maximum resiliency and high-availability. The X-Series eliminates a single point-of-failure and provides automatic recovery from service-impacting events. It also provides the tools that enable active/standby and active/active deployments to ensure the highest data center availability in support of disaster recovery strategies.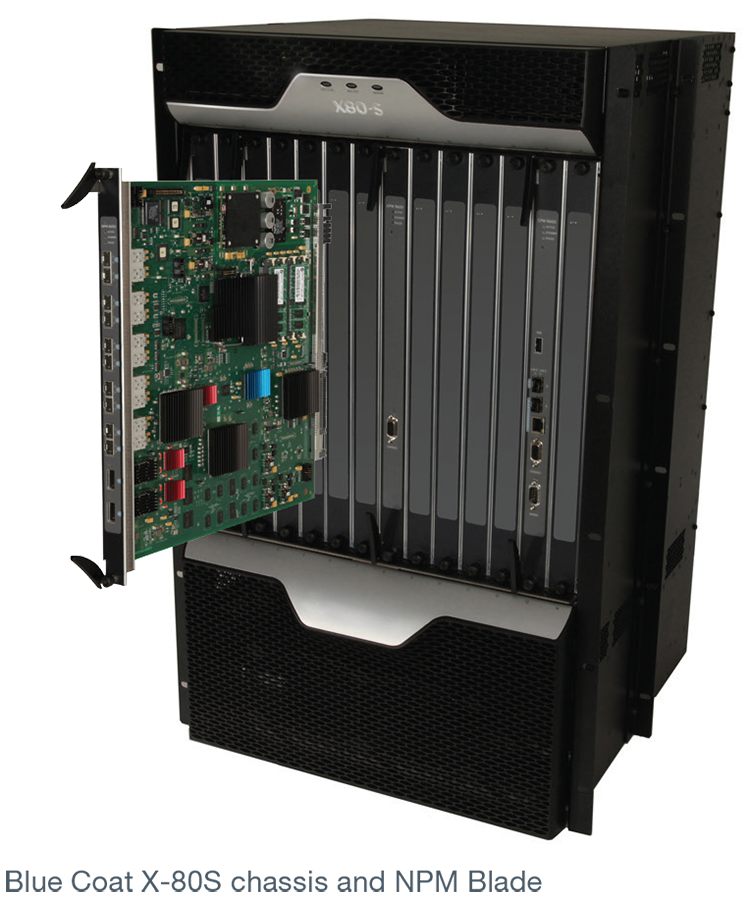 X-Series Chassis
CHASSIS SPECIFICATIONS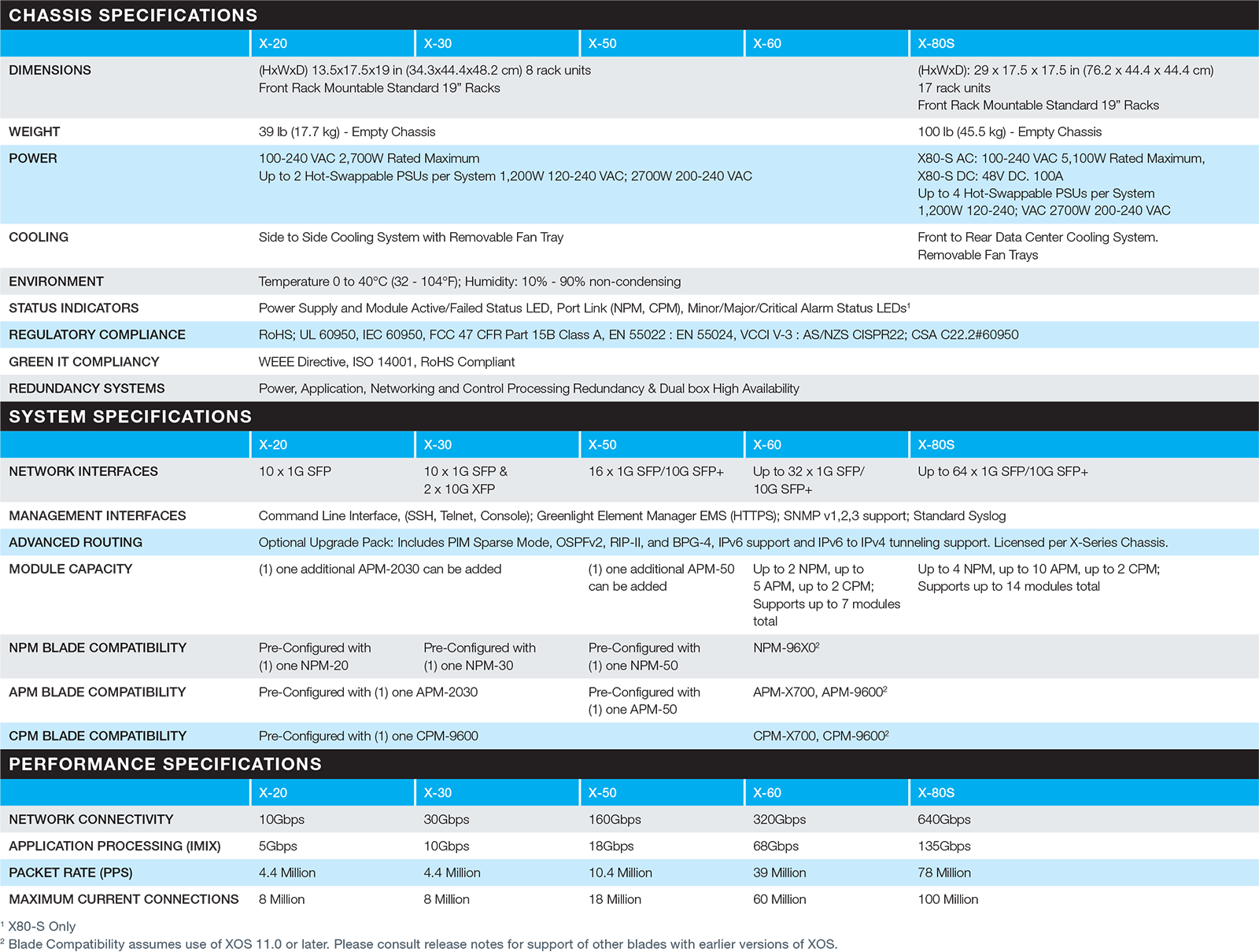 X-Series Blades