Network Access Control
AGENTLESS ENDPOINT ACCESS CONTROL
Trustwave Network Access Control (NAC) offers an enhanced enterprise feature set leveraging a fully agentless architecture compatible with any network vendor, while providing continuous device visibility and control with both pre and post admission checks.
The Trustwave NAC Difference
Agent-less deployment for seamless deployment and monitoring on fixed and mobile assets
Scalable approach
Complete protection for all endpoints, managed and un-managed
Automated detection and restriction of non-compliant devices based upon; Device type, OS patch level, firewall policy
Vulnerability profile, open ports and services
Potential malicious behavior or malware infection

Mobile & BYOD with Trustwave NAC
Integrated Support of BYOD
Trustwave Enterprise NAC mitigates challenges related to BYOD and supports your BYOD and mobile access strategy and initiatives through:
Device Identification
Clear identification of iOS and Android personal mobile devices as well as other devices that connect to the network.
Authentication and Device Categorization
Easy authorization and placement of devices into specific security zones of known and unknown devices for simple management.
Threat Mitigation
Automated detection and restriction or quarantine of noncompliant devices based on device type, vulnerability assessment, potentially malicious behavior, or policy violation.
Trustwave NAC detects and continuously evaluates all entrants to the target network based on acceptance criteria for pre-admission and continuous monitoring post-admission.
NAC Appliance Specifications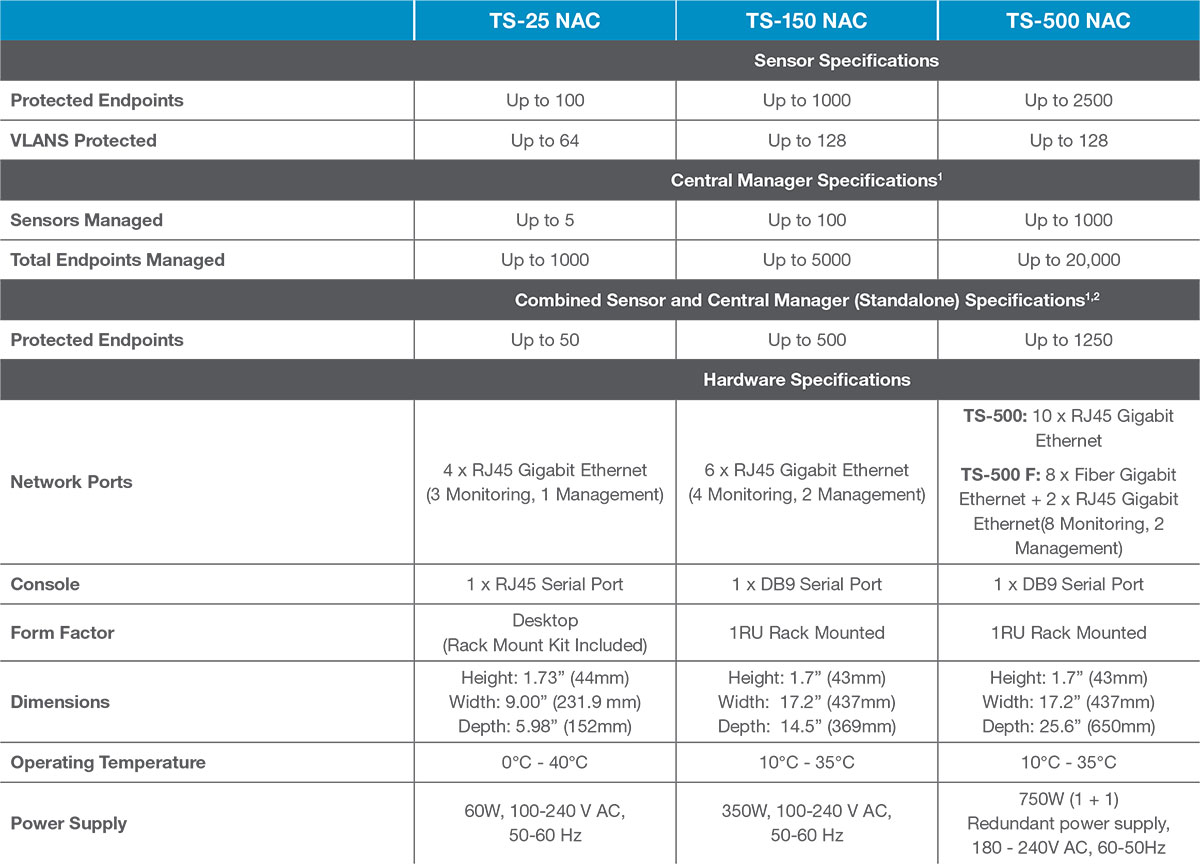 Notes:
Based on NAC software version 5.0
Appliances running in a "Standalone" mode cannot serve as a Central Manager for other sensors and will not allow other sensors to connect to it. If the deployment has more than one sensor, then a dedicated Central Manager will be required.